Imagine if your business felt less like "force" and more like "flow"…
Imagine if you could kick the Impostor Syndrome and market yourself like a boss…
Imagine if you had the tools, the mindset, and the systems to crush your goals, not your soul…
In this free training, you'll learn:
The top 3 mistakes small biz owners are ENCOURAGED to make (that lead to less revenue and massive burnout)
The #1 business asset that leads to success or failure
Where to spend at least 25% of your time to ensure profits in part time hours
What to do differently in your small biz, so you can walk away knowing why you feel stuck and exhausted, and what needs to change
My 3 tiered Healthy Hustle Approach that creates multi 6-figure profits in 20-25 hours per week, so you can build a reliable business that doesn't burn you out
Breakthrough Boss® Inner circle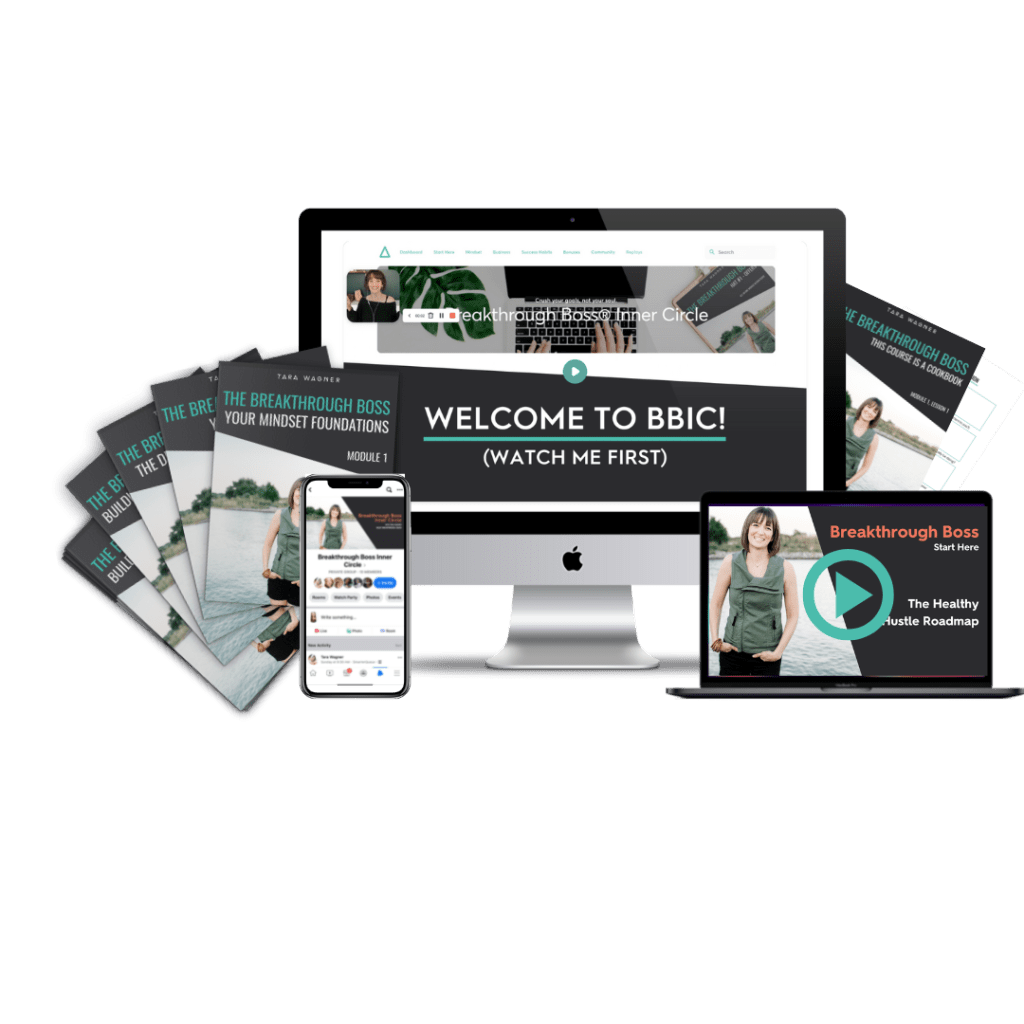 In this program, you'll learn:
How to go from burnout to a Healthy Mindset
How to create a Healthy Business by doing less without losing any revenue
How to streamline your efforts and success with the rights systems and habits
How to create a profitable business without compromising your health or time
In this course, you'll learn:
How to map out exactly what to say for 365 days – and it only took a few hours
How to make sure your content attracts your DREAM audience (while repelling the "nightmares"!)
How to keep it all streamlined and organized so the chaos no longer overwhelmed or distracted you
How to turn the biggest part of this process on autopilot so that it works for you all year and takes less time each year
Overcoming Impostor syndrome
In this clas, you'll learn:
How to expose Impostor Syndrome for what it really is, so you can see why it's actually a REALLY GOOD SIGN
How to understand what created your Impostor Syndrome, and how to shut it up instead
How to stop chasing approval from the haters and start making real strut-style strides, and feel good about it
8 steps to go from feeling like a "con" to feeling like a true boss!
In this course, you'll learn:
How to find closure with the past year, so you NEVER repeat it
How to figure out what's next, so you have genuine clarity and confident direction
The process that helps you set intentions that are realistic and a good fit for YOU, not your ego
YOUR Guiding Word – one that's intentional, powerful, and will transform your year
How to ACTIVATE "Your Guiding Word" so it goes to work for you right away
Create goals that align with your values and needs (not your should's), so that you're internally motivated all the time
Build your self-confidence AND your skills, so that you're no longer holding yourself back out of self-doubt or fear
Audit and find the exact areas of your business that need your attention, so you're not wasting time on the wrong stuff
Systematically upgrade every area of your business for more profits and time freedom
Build personalized daily, weekly, and monthly Success Habits with the accountability to help them stick
I'm a Breakthrough Coach for small business owners who are burning themselves out. I teach them how to use a better approach that increases their profit, but also provides them more time. (Because you can always make more money; but you can't get back your precious hours.)
As a small business owner myself since 2000 and a coach and consultant to entrepreneurs across multiple industries, I know we all get into business for one thing: freedom. (And the money that affords it.)
There are a lot of things that go into building a business that doesn't burn you out, and strategies and systems that save you time on things like Content Marketing are at the top of that list.
That's why I'm excited to offer you the chance to makeover your content creation process with A Year In a Day.
Because I know firsthand the relief that comes when you can look at your schedule, realize you finished all your tasks and still have the whole day ahead of you.
And I want you to finally know that sense of freedom too. After all, that's really why you got into business – not to spend all day creating content – but to have the freedom to actually enjoy the fruits of your labor.
A Legit Earnings Disclaimer: I can offer no guarantees that you, your mindset, or your business will be successful. That's 100% up to you and results will vary based on your stage, energy investment, current skillset, and what you're willing to learn or do differently. I can offer you are the most powerful tools I've found to overcome the biggest obstacle most of us face: ourselves. And I can teach you the strategies that have worked for me and countless others. Be sure you read the full terms and disclaimer at the links below. Engagement with my content or involvement in my offers denotes you will take 100% ownership of your results.