Confidence. Clarity. Breakthroughs. Harmony. Connection. Authenticity. Stability. Pleasure. Abundance. Boldness. Passion. Purpose. Presence. Adventure. Joy. Real Success. Freedom.
THEY'RE YOURS FOR THE TAKING.
(And I can show you how to get there.)
Why hello there gorgeous, I'm Tara Wagner.
I'm the Breakthrough Coach for self-employed women who mean business.
With nearly a decade of experience coaching women on mindset and Belief Breakthrough, I help you to identify and overcome your old habits – both practical, as well as emotional and mental – learn a better way of approaching the work/life/family juggling act, and gain confidence in your new role in your growing business.
I also teach you how to overcome Imposter Syndrome and overwhelm, and finally execute on the projects you keep putting off, so you can scale your business WITHOUT scaling your stress. #canIgetanamen?
I started my own entrepreneurial journey back in 2000, at the ripe old age of not-quite-19, and with a 1 year old in tow.
I had no idea what I was doing.
I remember being so nervous to call about my first business license, just sure they'd spot me as an imposter, that I spent 20 minutes practicing how my mom sounded when she had to call the bank.
There was no other choice in my mind. I needed to pay the bills (and get off food stamps), and I knew I'd never be happy if my freedom was dictated by someone else's goals.
So I got my hustle on, and I actually did alright for a few years.
But I had no idea that to really grow a business meant investing massively in growing yourself.
I remember sitting with Justin (my mister) on our bed one night, about 7 years into my business, crying that I just couldn't do it anymore.
I "wasn't good enough". I couldn't handle the grind for one more day, pretending to have it all together, worrying where the next deposit would come from, or whether it would come in time.
The mom guilt.
The competition.
The game of comparisons.
The never-ending To Do list.
The 16 hour days where nothing seemed to moved forward.
The endless notifications.
My own health issues getting in my way.
Where was this F-ing freedom I had been promised?
It's absolutely true that you can do "all the right things" and still struggle like hell in biz and in life. And throwing money at it doesn't help, either. You can hire the best copywriters, ad managers, photographers, designers, employees, assistants, and strategists…
But if you don't invest in growing yourself, you will never grow your business. Because to run a successful business, you get to first BE the woman who can.
To be successful, you get to learn the skills, habits, and mindsets that successful women embody in their business AND lives, to stop both from falling apart.
And to do that, you need to learn how to overcome your own bad habits and limiting

Belief Systems. (Aka "BS")


so you can crush your goals, not your soul.
Which brings me back to why you're probably here…
Oh hun, I freaking get it.
I know what it's like to love your kids, but feel like your business is your baby too. (And it needs more attention if any of them want a birthday party this year).
I understand the feeling of spinning all the plates and juggling all the hats you're supposed to be wearing.
I know the resistance towards that next level, because of what it might mean to your marriage or your health. (Mo' success = mo' responsibility = mo' stress. Right?)
I've been there too – playing small, afraid to go all in, never feeling like you have enough letters behind your name.
Or still feeling a little squirmy when it's time to get paid.
I've seen firsthand the long-term detrimental outcome of putting off real self-care in favor of "just a few more minutes" in front of your inbox.
And I know what it's like to be bombarded with all the quotes telling you to "Trust the Process" or "Release Your Fears to Play Bigger", and you just want to scream "BUT HOW?!"
Oh hun, I know. And I want you to know a few things too:
You're not alone. Ever.
There IS a way through it.
It's gonna be an inside job.
And contrary to

your own "BS",

you CAN learn this.
And if you stick around, I'd love to be the BFF that shows you how.
But first…let's get you refueled, shall we?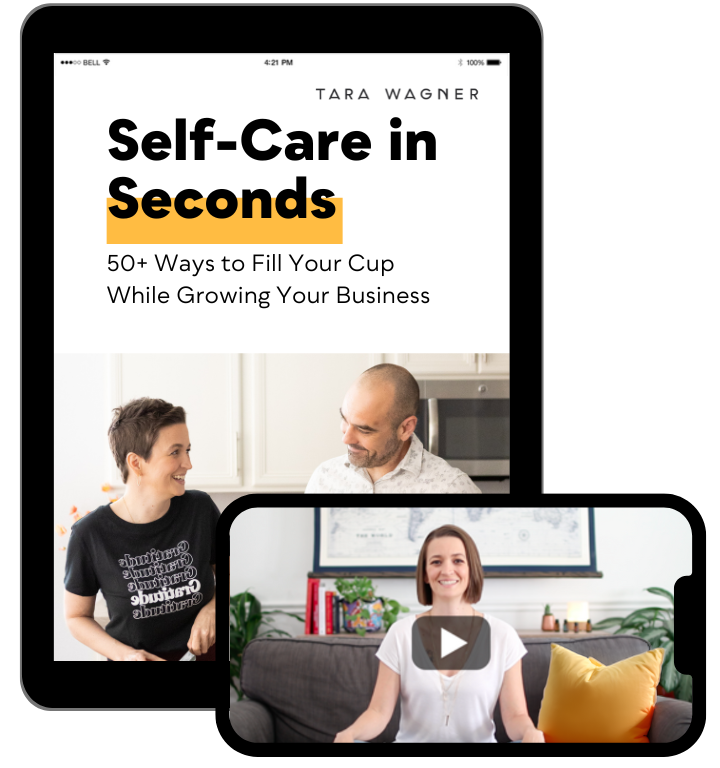 Contrary to nursery rhymes, you're not the little teapot.
So whatcha doin' hanging out on the back burner?
50+ WAYS TO FILL YOUR CUP WHILE ROCKIN' YOUR BIZ
You can pour from an empty cup. You know that. I know that. But I also know how hard it is to find the time OR energy to fill yours when you're already running on fumes.
Grab this free training and ebook for dead-simple practices and some big Aha moments to help you figure out how to put yourself on the agenda again – even (or especially) if you don't think you have time.