mindset coaching for female entrepreneurs
The kind of effortless confidence that attracts business like a magnet
Perfect clarity on your Next Big Move and the exact steps to get there
No longer second-guessing yourself or feeling too small when it's time to Play Big 
Systems, processes, and habits that put success on autopilot
Feeling totally in flow as you're finally #gettingsh*tdone (the right sh*t, I might add)
More free time in your week than you know what to do with
And hey, I know you're not in it JUST for the money, but won't it be cool when you have a lot MORE of it?
BREAKTHROUGH COACHING OFFERS THIS AND MORE.
Mindset coaching with Tara has been nothing short of amazing. I went into it honestly afraid it would be a waste of time, feeling overwhelmed, and like I had no business doing what I was doing anyway. Through the work we did, I have confidence in myself, clarity on both short and long-term goals and priorities, I was even able to see that some of my business goals weren't even what I actually wanted but rather what I felt like I "should" want. I'm able to take better care of myself, focus more on my family, and love my work again!
April Bradley, Acupuncture Physician, 30A Wellness Studio
Be ready to do the work to get the full benefit from Tara's skills, because if you're stuck in your business and your mindset and aren't sure how to get past it, she'll show you. Before working with her I really struggled with feeling overwhelmed with everything in my life and business, with beliefs around scarcity, and with feeling like I couldn't get through it all. Tara challenged my limited beliefs, didn't let me get away with my comfort zone, and helped me find clarity around some key decisions around my work and where I was putting my time. She's helped me get on top of things for both me and my employees. I recommend her to anyone who knows they need help to do the same.
- Adonica Sweet, Ogopogo Tours, Summerland, BC
I provide Business Breakthrough and Mindset Coaching to small business owners ready to crush goals, not their soul.
You know who you are:
You're smart. You've got a fair amount of your sh*t together. You love your business (most days). And you know where you want to be and what you need to do (well, sorta).
BUT you're overwhelmed AF, and not getting any of it done.
✓  Annoying self-doubt at the worst possible moment
✓  Distractions for days
✓  Bad (sometimes embarrassing) habits throwing you off again
✓  Energy circling the drain
✓  Other people's agendas
✓  Lots of busywork, but nothing to show for it
✓  Focus going everywhere but forward
✓  Too many ideas
✓  Too much to do
✓  Oh, did I mention OVERWHELM?
It's frustrating isn't it? I mean, you KNOW you can do it. But you're also smart enough to know you can't see your own blind spots, you sometimes need a kick in the pants, and although you get that "mindset is key", you're still left wondering exactly HOW to go about upgrading yours and in the shortest amount of time possible, pleaseandthankyou.
Which is where mindset coaching comes in…
 
Pretty clear on "what" you want to accomplish in the next 6-18 months (and maybe parts of the "how") but need help making sure you "do the do" and ACTUALLY get there
 
Starting to realize how you think, feel, act, and react are the real key factors to your success (not the economy, your partner, or "luck"), but aren't exactly sure "how" to change those patterns and want to make that process as painless as possible
 
Tired of the entrepreneurial roller coaster (emotional ups and downs, anyone?) and are ready to feel like a badass every.damn.day
 
Needing someone who isn't afraid to call you on your BS and "self-sabotage" so you can stop making EXCUSES and finally make PROGRESS
 
Able to (or want to be able to) laugh at yourself, your mistakes, and your journey along the way
And are ready to put in the work (and we're talking MAJOR upleveling here) to take your plans to the next level
And you're really ready to…
Overcome the Imposter Syndrome and worry of what others think, so you can start playing BIGGER and magnetize your clients and customers #likeaboss
Curb your favorite forms of self-sabotage (including our old friend, overwhelm) so you can SHOW up, SPEAK up, and LEVEL up – in your biz and your life
Get organized (for REAL this time), create a personalized plan o'action that works for YOUR life and YOUR style, and actually hit. dem. goals. 💪🏻
Build habits around the RIGHT work, ditch the WRONG work, and learn how to outsource the rest, so you can get more done in…you guessed it, less time
Slay your Money Monsters and stop feeling sleazy around sales, so you can make more of it (and finally feel good about making a living while making a difference)
Build the mindset, the lifestyle, and the routines that WILL help you scale your business WITHOUT scaling your stress…
And if all this has you internally screaming, "YES!" like Ol' Sally in the diner – #Illhavewhatsheshaving – then mindset coaching just might be a good fit for your goals. 
I teach female entrepreneurs how to break through their real bottlenecks and
CRUSH THEIR GOALS, NOT THEIR SOUL.
I bring my 10 years experience of mindset coaching as a Belief Breakthrough Coach and 20 years as a business owner to your business, and help you uplevel your game, like whoa.
Oh yes, I will get up in yo' biz.
In as little as 6 months, we'll makeover your mindset, give your daily personal and business routines a facelift, and work through your emotional habits (yep, that's a thing), your time and priority management, and all the roadblocks along the way.
We'll also comb through (or create) your Plan O'Action and make sure you can actually take action on it.
One thing at a time, we will check it off. Together.
If you've got a problem, yo,
we'll solve it.
Here are a few more examples of what we can do together:
✓ Need to balance your goals with your health concerns? I'll show you my tricks.
✓  Idea machine on overdrive, but not producing results? Covered.
✓  Struggling to find a good VA and learn how to be someone's boss? We'll do it together.
✓  Can't seem to get a handle on your time? You bet your buns we'll solve it.
✓  Can't seem to follow-through? Easy.
✓  Want an experienced entrepreneur to put her eyes on your stuff? I'm for it.
✓  How about guidance as you work through a project or implement a training? Fun!
✓  Need to uplevel your sales and money mindset? Oh yes queen.
✓  Freaking the EFF out on the inside? I got you, boo.
Here are just some of the results you can achieve with me as your Breakthrough + Mindset Coach:
No more Entrepreneurial Hamster Wheels of endless busywork that takes you nowhere. Your week will start reflecting your new mindset – clean and clear.
Because that's what happens when you're no longer holding yourself back, afraid of success or failure, or unclear on what you really want. Clarity leads to massive action leads to massive results.
Screw Impostor Syndrome. How about liking yourself, trusting yourself, knowing you're in the right place at the right time, doing the right things? What will you be able to do with THAT?
Can I let you in on a little secret? 85% of female entrepreneurs aren't making progress because they aren't clear on what they want. This will likely be the first thing we resolve.
Screw Impostor Syndrome. How about liking yourself, trusting yourself, knowing you're in the right place at the right time, doing the right things? What will you be able to do with THAT?
Snowflakes turn into snowballs turn into avalanches when you have your head, your heart, and your habits in the right place. I'll show you how to do all three so you can clear the path for your own massive momentum.
Here's a taste of what
we'll definitely be doing… You'll learn what's tripping you up from the inside (dat brain!) and I'll show you how to use my PROVEN Belief Breakthrough Formula to transform it in just a few minutes every day. What do you need to get where you're going? We'll find what's missing in your business, your life, even your skills, and how to work it in WITHOUT increasing your work hours. I'll show you how to make a growth plan for your biz that works for YOU (meaning you can actually stick to it), and how to solve for any obstacles that come along to slow you down. It will be the Rick Astley of plans. #nevergonnaletyoudown I love time priority management. I'll show you how to shift your relationship with time so that you can master the art of working smarter, getting more done, but oddly still having more free time than you actually know what to do with. (I'll leave that awesome little dilemma for you to solve!)
But before you say "I
do", there are some
things you should know:
I'M A TOUGH COACH; NOT A FLUFF COACH. I will not stand for Playing-Small-Talk. I'll call you out on every limiting belief I sense. And trust me, I sense them all. It's basically the Unagi of calling out people's crap. (Think Ross, not sushi 😂) #ifyouknowyouknow
I don't hold space for excuses. I take great joy in stretching you out of your comfort zone, and I know how to do it in ways that actually work. So be ready.
I'm with you for 1 out of 168 hours in a week. Meaning: your results are on you, babe. If you wanna see massive outcomes, that means making massive moves of your own. I'll bring my A-Game to the field, fo sho, but I'm only on the sidelines of your game. You're the one with the ball. Are you ready to run with it?
My work is 3 parts practical, 1 part spiritual, and 1 part weirdly intuitive. If you like the mix of deep + irreverent, high vibe + very grounded, mature, and logical, we'll get along great.
My mindset coaching tools include Cognitive Behavioral Strategies, Nonviolent Communication, my own Belief Breakthrough tools, a metric shit ton of experience, and even some Emotional Aromatherapy, if you're down to get oily. (You will get some personalized oils for emotions from me as a gift!)
I don't officially do "business coaching" – I do high level coaching for women in business. But yes, some business strategy will sneak its way in. Think of it as a bonus to the real work we're gonna do together.
I don't work with someone for less than 6 months. I prefer 12. I want to have enough time to witness the REAL and lasting transformation, not just the initial honeymoon phase. Authentic change takes time, yo.
You will likely be pissed at me at least once during our time together (and by "likely" I mean "totally will" and by "once" I mean "a handful of times"). I won't take it personally. It's the nature of getting out of your comfort zone to get irritable with the person nudging you. But you must be ready to get uncomfortable with me when it happens. Cuz oh yes, we'll talk about it. Like besties do.
I don't offer refunds, cuz I only work with women who won't allow themselves an "out" when the work gets real or life throws a curveball at their goals – and it will. But that's when it gets fun. I also prefer you pay-in-full upfront for two reasons: 1) to get a discount (saving money is always the bees-knees) and 2) to get your mind off your monthly payment and onto the work at hand. But payment plans are available if you need them.
I like to laugh. A lot. And I appreciate a well-placed F-bomb. As deep as I go, I've learned to take humor with me and not take myself, you, or any of our work too seriously. (It's just life, after all.) I hope to impart some of that on you too. 😉 
If you're NOT getting an "OMG yes yes yes, you're exactly what I've been looking for" vibe right now, I'm probably NOT the mindset coach for you. I want you to apply this little nugget of wisdom: If it's not a "hell yes", it's probably a no. I'll apply the same thing when agreeing to work with you. (Ahem, don't let fear muddle your "hell yes" though. If you're drawn to this like a magnet, that's your instinct talking. Fear and doubt are normal to be in the mix of something big.)
Before working with Tara, I felt completely stuck in my business and needed to gain clarity around what puzzle piece was missing. It was super challenging because I seemingly do everything I can, yet somehow the whole system was apparently dysfunctional - since it hasn't been able to serve its purpose, which was making sufficient income for me and my family. I was hesitant though because I couldn't find the cause of my problem, and worried that without it, it would be a waste of both our time.

However finding the problem and diagnosing what went sideways was EXACTLY what Tara helped with! She gave me so much insight, value, and clarity - not to mention the pragmatic action plan at the end! Wow! I cannot imagine time better spent!

Because of working together, I've finally been able to identify the glitches in my process and look at them with compassion instead of frustration. I was able to see what I do efficiently and effectively, and where the hick-ups come from. Perhaps, most importantly, I have learned that it is COMPLETELY normal to go through these phases and changes on the journey I am on. 

It feels amazing to have both the clarity and the step-by-step process laid out in front of me that is tailored to my exact needs and situation! (I could not wait to start with the first step the next morning!)

I think the real difference between Tara and other coaches is that although she does give you all the insight that comes from her amazing knowledge and experience, she also scales it in in a way that YOU feel capable and ready for the next phase. There is none of the "just be positive" BS that a lot of people bring into this line of work and they give you irrelevant practices that you cannot relate to at all.

Tara is the go-to coach for clarity, strategy and a customized, actionable plan to make things not only feel good but doable. I recommend her to any business owners who feel stuck and don't understand why - and to those who are ready for the incredible clarity and applicable strategy to move forward and grow. 
Zsuzsanna Smith, Educational Consultant
Breakthrough Coaching Can Help Even If:
But Here's Where I CAN'T Help You:
WHAT'S INCLUDED IN A FULL 6 MONTHS WITH ME:
Up to 18 Coaching Calls, 60 min each ($8,100 value):
We'll schedule our calls in the first 3 weeks of the month, where we'll hone in on what's first/next, troubleshoot what you've been doing, coach the snot out of it, and drive it all forward.
1+ Week of Implementation Per Month (Priceless):
The last week(ish) of every month is for catching your breath, handling your biz, implementing what we've covered, and processing and integrating your Aha moments. And I'll still be available for support during this time as well…
24/7 Voxer support between calls ($3000 value):
Voxer is like a cross between a walkie-talkie and a voicemail service, and between it and email, you can reach out 24/7 with questions, troubleshooting, to process, or even daily accountability check-ins. Think of this like a coach in your pocket!
My Breakthrough Boss course ($1000 value):
Get the entire course, and join any or all future group calls, forever. This means learning the Breakthrough formula skills on your own time, so we can get more from our 1-on-1 calls. Plus you're getting access to me for as long as I have the course. Which'll be awhile.
Personalized Emotional Aromatherapy Kit ($300+ value)
All my clients will receive their own kit of oils perfect for their unique mindset needs and goals, plus my guidance on how to use them to make your job easier.
When I started with Tara, I was scattered, hair-brained and worn out with trying to scare up enough time in my day to manage my small business. After just a few conversations, Tara had given me clear personal direction, helping me to get my days more organized and culling out a lot of wasted time.
Lauren Runion, Owner, Yellowbobbypins Art Camp
If you have a lot on your plate and need help focusing your energy on doing the productive things, not just all the things, Tara's your gal.
Nicole Lynn, Artist, Creative Guide Whole Hearted Art
"Tara has a tremendous ability to teach you how to cut through the layers of BS, dig deep into what is really going on and then provide practical actionable steps to move forward. Her depth of understanding is impressive and her approach to free yourself from where you are stuck draws from a trunk of tools that are fun and doable!"
Michelle Frost, Owner, Coastal Flow Glass CO
I take very few 1-on-1 clients at once, so spaces are very limited (and Inner Circle members get first pick).
We start the process with an application to help me make sure I'll be a good fit for your goals.
After you submit your app, we move onto a 20 min Decision Call to make sure it's a "hell yes" for both of us. No cost; this call allows us to get to know each other, answer any lingering questions you might have, get a sense for what working with me will be like, and help you decide during that time together.
The purpose of the Decision Call is to make a final decision together at the end. If it is a "hell yes" for both of us, we'll discuss first steps from there.
Ready to take a small leap?
Tara has picked up on things other professionals have not. She gets me to commit in ways I haven't before. She makes me work and there are times I hate her for it, but I love her for all the work she's helped me do for myself already!
- Xo, Adonica Sweet, Ogopogo Tours, Summerland, BC
The first thing that you recognize in Tara is that she is authentic. Because of this, there is immediate trust because she walks the talk. She takes care of herself first so she can help others. She is the Boss Lady for living your best life with balance and integrity, mixed with a sense of calm and sprinkled with laughter. Let Tara guide you in your entrepreneurial journey because it's not all about the work, it's about the self-love too.
Jennifer Owen, Owner, "Brave and Unemployed" Coaching
Tara helps me so much. She points out unhelpful thoughts that I didn't notice and unhelpful beliefs that are holding me back. And then she helps me show more compassion towards myself and change my thoughts to stop putting myself down. When I think about how I used to think 9 months ago (when I first started working with her) and now, I'm amazed by the differences in how I solve problems and prioritize things in business and and personal life.
Sara Binde, Plant-Based Nutritionist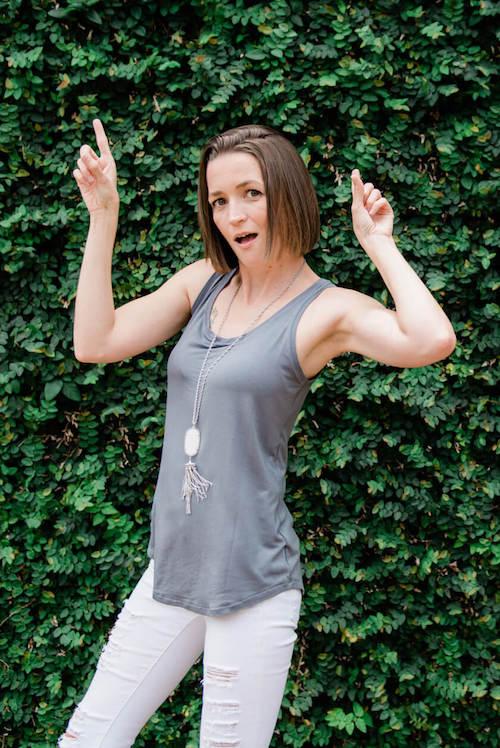 I cannot wait to hear from you and get down to the nitty gritty. We are gonna uplevel like woah and make sweet, sweet magic happen.
Let's do this.
P.S. If right now you wanna say yes to mindset coaching with me – you feel that magnetic tug or maybe even feel a little emotional – but you're having all kinds of doubts and worries and (probably very logical) reasons why you shouldn't click that application button, that's actually a good sign.
If you weren't, I'd worry you weren't taking this gigantic step seriously.
But here's the cool thing(s) I want you to remember: 1) Everything you want is on the other side of "comfortable", and 2) it costs you nothing to apply now and sleep on it from there. If you wake up not feeling 100% ready to breakthrough and sure I'm the coach to help you do it, just cancel our Decision Call 24 hours in advance. No harm done. Deal?